It's 1:50pm in Maui: This is a live view from the webcam on the lanai of our condo! At different times of day, you will see different views.
HD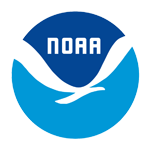 Spot a Humpback Whale!
It's that time of year again! Between 7:30AM & 5:30PM HST (It's currently 1:50pm) we set the camera to scan the horizon for Humpback Whales! The researchers at the
Hawaiian Islands Humpack Whale National Marine Sanctuary
at NOAA has asked for your help in spotting Humpback Whales. Specifically they want our viewers to report anything unusual with the Humpbacks such as vessel strikes, entanglements etc. If you spot a humpback and more importantly see one in distress, please make note of the time on the video (bottom left corner) and notify us (
whalesighting@mauisands.com
). of the spotting at describe what you saw and the time of the sighting. We will forward your report right away to the Maui Island coordinator at NOAA.
If you spot any other marine creatures such as
Hawaiian Monk Seals
,
Spinner Dolphins
or Sea Turtles (
Green
or
Hawksbill
) feel free to report it and we will notify other views on the YouTube page.
Come experience this view in person and feel good about your decision
Our Eco-friendly Mission is to have our guests feel good that their Hawaii experience is the greenest & most health
conscious as possible. Scroll through the list of features we have incorporated into our 2 bedroom condo below:

100% organic cotton linens and bed spreads and bamboo towels
Did you know that conventionally grown cotton consumes approximately 25% of the insecticides and more than 10% of all the pesticides used in the world? Conventional farming devours roughly a third of a pound of pesticides and fertilizers to produce enough cotton for a single T-shirt. The production of cotton has a huge impact on the world we live in. Organic cotton products reap all the benefits of cotton's beauty, comfort and strength while minimizing harm to people and the planet.
Learn more.

Zero VOC paint on 97% of the walls
Volatile Organic Compounds (VOCs) are known carcinogens and are found in paints. They are considered dangerous to human health and cause harm to the environment. Concentrations of VOCs are consistently higher indoors (up to ten times higher) than outdoors so we found it extremely important to limit VOC off-gasing as much as possible in our remodel. That is why we used Sherwin Williams' zero VOC Harmony paint for all the interior walls and ceilings.
Learn more.

Bamboo ventilation louvres above bedroom doors
We've added bamboo louvre shutters above bedroom doors so that guests have the option to allow the tradewinds to flow through the condo when they have their bedroom doors closed. This helps keep the rooms cool without the need of an air conditioner or a ceiling fan to be on. An added bonus is that guests can have the sound of the waves lull them to sleep while the bedroom doors are closed. Guests have the option of closing the louvre shutters completely for complete privacy.

Built-in 4 bin recycling station in the kitchen
"The more convenient it is to recycle the more likely we would do it."
That was our thinking when we incorporated a factory-installed 4-bin recycling station into the kitchen cabinets. Maui Sands recycles plastics: #1, #2, #4, #5, and #7, glass, aluminum and tin.
Please refer to the condo manual when you check-in for full recycling instructions.

Carbon Neutral Certification
What ever energy we couldn't reduce through improving energy efficiency, we offset by
purchasing carbon credits
that goes towards the construction of a 45-turbine wind farm project in Tamil Nadu, India.
The wind farm is connected to India's largely fossil-fuel powered electricity grid and replaces non-renewable energy sources such as coal with clean, wind-generated energy. The project contributes to the sustainable development of the region – socially, environmentally and economically.

100% Natural-rubber topper
An all natural latex topper is used to complete the conversion of the twin beds into a king size bed for guests that request 2 king size beds. Natural latex topper is made from eco-friendly botanical all natural components with no toxic chemicals or synthetic or petroleum based fillers. It is free from chemical additives which are sometimes added as fresheners, odor camouflage, softeners, stain guards etc. By eliminating these additives, you truly have a natural environment with long-term health benefits.
Tier 3 Ecoconserve rated refrigerator
The fridge is an extremely efficient MayTag EcoConserve refrigerator and is 30% more efficient than the minimum federal standard, earning a CEE Tier 3 rating. In other words, this fridge consumes less energy than a 60-watt light bulb!
If you are considering a new fridge,
please check this one out
!

Double oven stove
Instead of a single standard large oven, the stove comes with two ovens of different sizes so that guests only need to heat the oven size they need! Small ovens heat up faster and need less energy to stay hot. An added bonus of the two stoves is that it gives guests the option to cook two different things at different temperatures at the same time.

High efficiency LED lighting
The bedrooms and main living areas utilize high-efficiency LED lighting to maximize energy conservation without compromising mood lighting options.

Super energy efficient 75" LED TV
This Samsung 75" Ultra HD 4K TV not only displays amazing clear and true to life videos, but it is also one of the most energy efficient TV's over 70" on the market. When operating, it consumes the same amount of electricity as a 100 watt lightbulb! It has a variety of built in Internet applications for accessing Youtube videos, NetFlix, Facebook, Twitter and more.

Reverse osmosis drinking water
Because of added chemicals like chlorine, Maui's tap water isn't the greatest so to avoid guests having to go out and buy imported bottled water, we have installed a 3 stage reverse osmosis system to give guests the best crystal clear drinking water possible.
The filtration system filters contaminants such as arsenic, lead, asbestos, copper, cysts, lead, radium and turbidity resulting from industrial discharge, pesticide runoff and gasoline additive leakage into ground water. The reverse osmosis system also supplies the ice maker in the freezer with filtered water.

Avalon Organics personal care products (lavender)
The skin is the largest organ of the body -- a delicate shield of protection covering us from head to toe. Much of what we put on our body is absorbed directly into our skin. That is why we stock the condo with the most natural products available, Avalon Organics for shampoo, conditioner, body wash, hand soap and moisturizing lotion. All of
Avalon Organics
products are made from at least 70% certified organic ingredients and is free of synthetic fragrances, phthalates and harsh sulfates or parabens. So now you have one less thing to worry to pack for your trip!

Energy efficient Gordon Ramsey toaster
This Gordon Ramsey toaster has a seemingly rare but simple energy saving concept: it has a single-slot toasting function that saves energy by getting rid of the need to heat two slots when you only want a single slice of toast! Pressing the "one slot" button will activate only the front slot of the toaster, saving 50% energy.

The most energy efficient fans on the market
The living room and dining room have the Emerson Midway Eco Fans that use 75% less energy compared to other ceiling fan motors. These Fans are the most efficient ceiling fans on the market (source: Energy Star) and achieve this electricity sipping status by using DC motors instead of AC motors. On high speed, these fans consume only 17 watts.

Yoga mats that are free of latex and the top six most harmful phthalates
Manufactured free of the top six most harmful phthalates, these mats are a healthier choice for both guests and the planet. The condo is equipped with two yoga mats so that guests can leave their personal yoga mat at home.

Extensive use of bamboo in the renovation
The condo incorporates an abundant use of Bamboo in the construction & finishing instead of conventional wood products where possible.
Bamboo is considered a highly renewable & sustainable product that saves our ever-dwindling hardwood forests and many consider it as a planet saving building material.
Learn more.

Keeping the condo cool with blinds on the outside of the windows
Unlike blinds inside the home, exterior window blinds stop the solar heat from ever entering the home and getting trapped inside. This better cools the condo and help avoid the need of running the AC unit.

A great massage chair for your pleasure
We know that going on vacation is out of your routine and may force you to exercise certain muscles you haven't used in a while. If you are walking, swimming, hiking or surfing more than usual you might find that you'll return to the condo exhausted and in a bit of pain. We felt it would be amazing to offer you a quality massage chair to help you relax to the sounds of the surf. Let it work its magic to alleviate pain and relax the muscles so that you are ready and in prime condition to enjoy the next day of your vacation in Maui.
Tile flooring that eliminates off-gassing
All of the materials and chemicals in carpeting off-gas overtime as the carpeting ages and breaks down. As the chemicals off-gases they contribute to the home's indoor house pollution and often cause respiratory issues with the home's occupants. That is why we chose to replace the carpet in the condo with tile.

Glass Tupperware to reduce exposure to BPAs and plastic leaching
Exposure to certain chemicals like BPA (Bisphenol A) found in some plastics have been linked to various human health problems including certain types of cancer and reproductive disorders. At the time of writing this, 10 states in the United States, Canada, and the European Union has banned plastics containing BPA from infant feeding containers. BPA is still allowed to be in standard food containers like Tupperware and that is why we have supplied only glass Tupperware in the condo for our guests.

Dishes optimized for the dishwasher
To optimize the amount of dishes that can be put in the dishwasher for maximum loading and minimum run cycles, we have decided to go with a remarkably ordinary dish package - Corell dishes!
It appears that this thin and light weight dish set is what appliance manufacturers use when designing their dishwasher tray layouts. So please fill the dishwasher up full before running a load!

FSC certified wood doors
We have purchased only Forest Stewardship council certified products for all the interior doors. FSC is an independent, non-governmental, not-for-profit certification organization established to promote the responsible management of the world's forests.

Chlorine filtration built into the shower head
Most people are aware that the quality of their drinking water can be improved by filtering their tap water or buying bottled water. However, many do not realize that they are addressing only a part of the problem.
One half of our daily chlorine exposure is from showering. Chlorine is not only absorbed through the skin, but also re-vaporized in the shower, inhaled into the lungs, and transferred directly into the blood system. In fact, the chlorine exposure from one shower is equal to an entire day's amount of drinking the same water.

Cast-iron and ceramic-coated fry pans
Almost all the Non-stick pots and pans on the market today use a teflon or Polytetrafluoroethylene (PTFE) coating to achieve its non-stick properties. While PTFE is stable and nontoxic, it begins to deteriorate after the temperature of cookware reaches about 260 °C (500 °F), and decomposes above 350 °C (662 °F). These degradation by-products can be lethal to birds, and can cause flu-like symptoms in humans. Thankfully, there are healthy alternatives! We have both cast-iron and ceramic-coated non-stick fry pans!.
Current conditions overview for Monday February 17
A very strong low pressure system developing north of the area will move north through Friday night, then dive south toward the area this weekend. This system likely will produce very hazardous, and potentially life-threatening, conditions across most Hawaiian waters, from late Friday into early next week.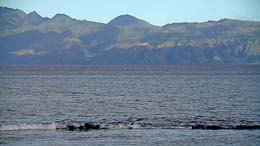 At sunrise we look at Mt. Kamakou on the island of Molokai
From 6:30am to 7:20am (currently 1:50pm)
Mt. Kamakou is part of the extinct East Molokai shield volcano, which comprises the east side of the island of Molokai. At 4,961 feet (1,512 m) it is the highest peak on the island of Molokai. Kamakou is located within the 2,774 acres (11.23 km2; 4.334 sq mi) Molokai Forest Reserve, estimated to contain more than 250 rare native Hawaiian plants, many of which exists only in this part of the world.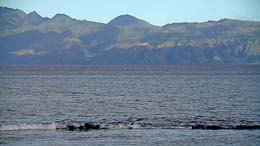 At sunrise look for Mt. Kamakou on the island of Molokai
Mt. Kamakou is part of the extinct East Molokai shield volcano, which comprises the east side of the island of Molokai. At 4,961 feet (1,512 m) it is the highest peak on the island of Molokai. Kamakou is located within the 2,774 acres (11.23 km2; 4.334 sq mi) Molokai Forest Reserve, estimated to contain more than 250 rare native Hawaiian plants, many of which exists only in this part of the world.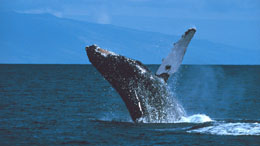 In the winter months we scan for Humpback Whale activity (Nov-Apr)
From 7:30am to 5:30pm (currently 1:50pm)
We set the camera to scan the horizon for Humpback whales in the Pailolo Channel. The Pailolo Channel is the waters between Maui and the island of Molokai and is part of the Hawaiian Islands Humpback Whale Marine Sanctuary. Due to it's shallow and protected waters, the channel contains one of the highest concentrations of Humpback whales in Hawaii during the winter months. (see this video of actual humpback whale footage from Maui Sands) A variety of whale activity can be often seen including tale and fin slaps, breaches, spy hops and even mothers giving births to their babies! Researchers at the Hawaiian Islands Humpback Whale Marine Sanctuary at NOAA has asked for viewers like you to help in spotting Humpback Whales. Specifically they want our viewers to report anything unusual with the Humpbacks such as vessel strikes, entanglements etc. If you spot a humpback and more importantly see one in distress, please click the camera icon above and email us a photo (whalesighting@mauisands.com), describe what you saw and the time of the sighting. We will forward your report right away to the Maui Island coordinator at NOAA. -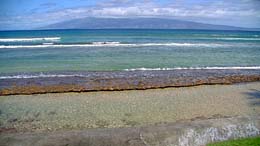 Views of the Kahekili Marine Reserve
From 7:30am to 5:30pm (currently 1:50pm)
Maui Sands is one of the privileged few that is direct ocean front to one of only three conservations zones in Maui - the Kahekili Marine Reserve. The reserve protects marine life by banning the kill, injure or capture of rudderfish, parrotfish, any of Hawaii's 24 species of surgeonfish, and any sea urchin. Also banned is the feeding directly to or in the vicinity of any marine life, except while fishing for permitted species. With these restrictions in place, the marine life within this reserve is protected and free to flourish which means snorkelling out front will be all that more enjoyable and fish-filled! The Kakekili Marine Reserve stretches out from the shoreline to a few hundred yards out. Beyond that and all the way to the Island of Molokai and Lanai is the Humpack Whale National Marine Sanctuary.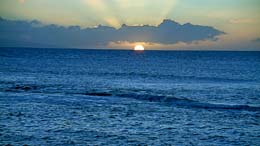 At sunset we look at the sun setting over the Island of Lānaʻi (Sept-Mar)
From 5:30pm to 7:30pm (currently 1:50pm)
Lānaʻi is the sixth-largest of the Hawaiian Islands and the smallest publicly accessible inhabited island in the chain. It is also known as Pineapple Island because of its past as an island-wide pineapple plantation. The island's only settlement of note is the small town of Lānaʻi City. As of 2012, the island is 98% owned by Larry Ellison (CEO of Oracle), with the remaining 2% owned by the State of Hawaii. As the days get longer, the sun continues to set further and further west, eventually setting over the ocean by mid March. By the middle of September, the sun begins setting over the island of Lānaʻi again. Enjoy our slow tv!