SPECIAL CORONAVIRUS PRECAUTIONS TAKEN: To help protect guests from the risks of infection of the coronavirus, we have implemented the following steps and features:

Between cleans, We are now using Lysol wipes to wipe down contact areas such as doors nobs, light switches, counters, etc. Extra cleaning products are now being stocked in the condo. All linens are being dried at the highest heat settings to ensure viruses are destroyed. The condo is stocked with enough toilet paper and soaps for guests' entire stay. We are offering a grocery delivery service and provide a list of restaurants that offer take-out and delivery. The condo now has 2 HEPA filter air filtration machines. Our condo has a reverse osmosis water system so you don't have to worry about bottled water. Maui Sands has the lowest condo density for an oceanfront condo in Honokowai: Fewer people = no crowds, less noise, More laid back, more peaceful and relaxing.

Welcome to Maui Sands
One of Maui's first vacation resorts.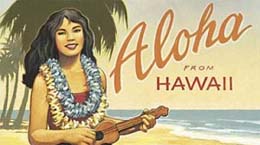 Old Hawaii
Maui Sands is one of the original condo resorts in all of West Maui and it has retained a lot of the old Hawaii vintage feel of the 60's before the hotel boom.

Our ground floor 2 bedroom oceanfront vacation rental is only 12ft from the water! Not only will you see an unobstructed view of the ocean, you'll hear it, smell it and occasionally even feel it too! Our condo has undergone a complete $150,000 transformation into a modern, eco-friendly and hi-tech maui vacation home, with many amenities that you won't find in any other rental in this affordable price range.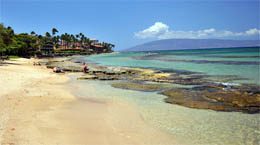 Calm waters - safe for kids
Maui Sands resort fronts a very unique reef system which some argue has the most child-friendly calm waters of all of West Maui. There's a beach nick-named baby beach in Lahaina, that is popular with families because of the protected waters. It's water quality is quite poor however and pales in comparison to the crystal clear waters at Maui Sands. Please note: during high surf/swell situations, none of the Hawaiian waters escape the wrath of the Ocean.

You'll see abundant marine life at Maui Sands thanks to the Kahekili Marine Reserve that exists in front. It prohibits the hunting and capture of many species of Hawaiian fish which benefits snorkelers and animal lovers!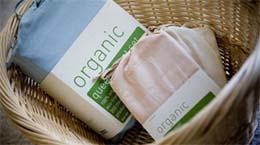 Eco-friendly and healthy
From Zero VOC paint and Organic cotton linens and towels to the most energy efficient technologies and design architecture, our goal was to make our condo a model for others to follow in terms of being as environmentally friendly & healthy as possible. Whatever energy use we weren't able to cut down on, we offset the greenhouse gases produced with carbon credits that went towards a wind farm construction project in Tamil Nadu, India.
We want our guests to feel good that they not only chose a vacation home that is good value and in a great location but also one that makes their vacation a little more earth friendly.
Humpbacks at Maui Sands
Whale watching meca at Maui Sands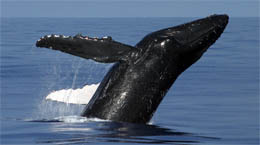 In the waters between Maui and Molokai can be found Hawaii's highest concentration of humpback whales during the breeding and birthing season. The waters that border Maui Sands are part of the Hawaiian Islands Humpback Whale Marine Sanctuary and constitutes one of the world's most important humpback whale habitats. It is the only place in US waters where humpback whales reproduce.
Whale Season is approaching and we have our
live webcam
setup to spot humpback whales on Maui between 3-4PM HST. If you spot one, please let us know!
WATCH LIVE